Age 3
All Aboard the Animal Train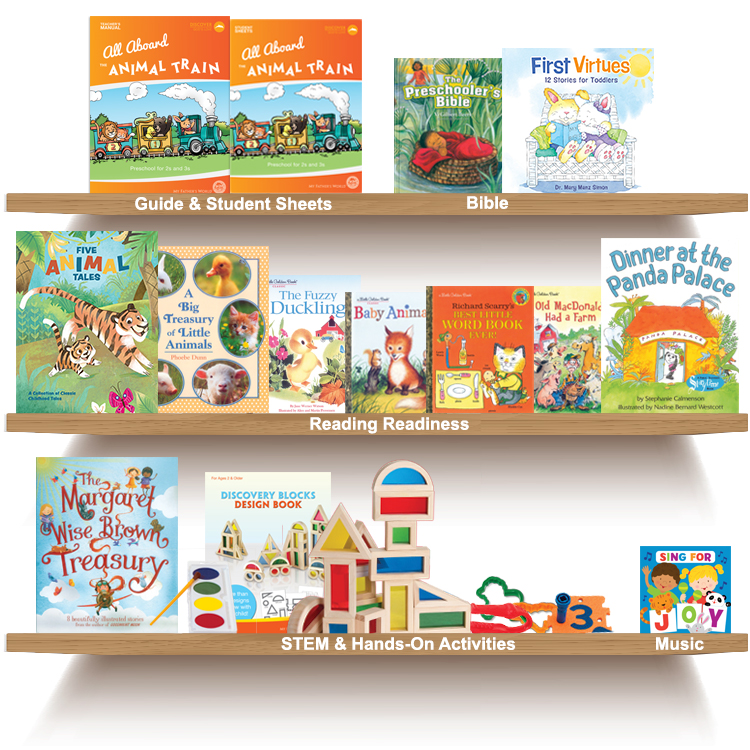 All Aboard the Animal Train is our year-long hands-on learning adventure for three-year olds. This complete preschool program is flexible and simple to teach. You can begin any time of the year. You can do all the activities, or pick and choose the ones best for you. The 12 units provide 36 weeks of engaging learning—3 weeks per unit.
Hands-on learning couldn't be simpler! Easy-to-teach activities are all scheduled for you with almost no preparation. (Who has time to gather ribbon in 6 colors, cut out 50 little penguins, or plan new activities every day?) Children will learn about 12 animals (one in each unit) through finger plays, creative play, songs, and colorful animal cookie cutters.
Our program is also bursting with fabulous books, all scheduled for you, about each animal. We're excited about this fun, educational curriculum with biblical values and character development!
Each of the 12 three-week units focus on a character trait, a color, and an animal. For example, Unit 1 focuses on love (God loves us, so we love God and others), rabbits, and red.
In Unit 1 children will:
Hear Bible stories about God's love, sing a Bible song from the included CD, participate in simple character-developing activities, and create a unit poster (from the Student Sheets) to display during the unit.
Help make red play dough from scratch, enjoy trying red foods, and go on a red color hunt.
Pretend to be a rabbit, learn a rabbit finger play, listen to stories about rabbits, and make a rabbit-shaped sandwich with cookie cutters included in the Package.
Children will enjoy four different activities each day scheduled in the Teacher's Manual:
Together Time — daily group activity.
Story Time — books and poems from the package and a list of optional library books focusing on the 12 animals you will study.
Surprise Time — five semi-independent activities; using resources from the package and other simple-to-gather items.
Outside Time — unstructured outside play for exploration, health and large motor development.
The goals of our program are:
Spiritual Growth
God loves us, so we love God and others.
Twelve character traits - love, obedience, patience, kindness, sharing, thankfulness, politeness, friendliness, forgiveness, joy, truthfulness, doing your best
Three Bible stories and a memory verse for each character trait
Cognitive Development
Creative thinking, problem solving, imaginative play
Songs and fingerplays
Reading and Math
Read-aloud stories and poems to develop reading readiness and a love for books
Print awareness, phonemic awareness skills (rhymes, etc.)
Informal alphabet readiness - watch the adult write and read words, enjoy several alphabet stories and an optional alphabet art activity
Numbers, colors, shapes - a variety of multi-sensory activities develop true understanding
Science
Twelve animals - what fun!
Music
Each unit has a preschool learning song (about animals, colors, etc.) and a Bible song, using Sing for Joy CD created by MFW.
Physical Development
Gross motor skills - pretend to be an animal, play outside, and more
Fine motor skills - squeeze play dough, paint and color, learn finger plays, and more
Health - focus on nutrition by enjoying healthy snacks
This program might be just right for you if:
You'd like to create memory-making time each day — an easy-to-teach Together Time activity (15 minutes), Story Time (books and poems provided), a semi-independent Surprise Time activity, and unstructured Outside Time.
You are looking for a flexible, easy-to-use, educationally-sound, character-developing program.
You'd love a big stack of read-aloud books, paint, sturdy activity sheets, and educational toys, with daily lessons already planned — all at a great price!
We invite you to contact us with any questions or to request a custom quote. There are also sample options from downloading sample units to shipping samples to your door.